Winter activities besides skiing
Besides skiing and snowboarding, Hochfügen's winter holidaymakers can enjoy a host of other winter activities in the Zillertal Alps. From tobogganing and cross-country skiing to romantic snowshoeing and guided ski tours, there are a number of ways to explore the spectacular high-Alpine winter landscape. With such a wide range of winter sports activities to choose from, Hochfügen has something to suit every taste. Equipment for each activity can be hired from Hochfügen's rental shops. New this season are the night-time tours taking place every Friday.
Loved winter activities in Hochfügen...
---
High-altitude cross-country trail
Higher. Lovelier. Hochfügen's high-altitude cross-country trail also boasts reliable snow. Situated in a magnificent location at 1,500 metres, it is ideal for cross-country skiing following the classic or skate techniques. The trail can be used free of charge. Cross-country skiing equipment is available for hire from Hochfügen's rental shops.
Hochfügen's beautiful, nine-kilometre high-altitude trail begins right next to the parking area by the first ski lift counter.
The route heads off in the direction of Gamsstein (Loassattel).
After a brisk cross-country trek, you can take a break in the cosy Loasie Alpine inn.
The level of difficulty has been classified as intermediate to difficult.
Tobogganing fun for the entire family!
Hochfügen's 1.5 kilometre, illuminated natural toboggan run is great fun for families with children and groups of adults alike. Sledges can be hired for a fee from various rental shops in Hochfügen. The start of the toboggan run can be reached on foot through the magnificent winter landscape – and then the fun can really begin!
After a stop for refreshment in the inn, it's time to wind your way down the slope on two runners. Tobogganing may look simple but, here too, there are potential hazards to avoid. To prevent collisions, tobogganers must always travel at a moderate speed and keep an eye on the route ahead of them. Sturdy footwear and strong gloves are a must to protect against injuries to the arms and legs. While it is recommended that children in particular wear a ski helmet and goggles, it is, of course, a good idea for adults to set a good example and kit themselves out fully as well. Hochfügen's natural toboggan run is illuminated daily and is free of charge.
---
Snowshoeing
Forests blanketed in deep snow and breathtaking panoramic views make Hochfügen an ideal destination for holidaymakers looking to take a relaxing break close to nature. Recharge your batteries in the heart of our tranquil surroundings and, accompanied by a certified mountain and hiking tour guide, discover unspoilt paths and fresh animal tracks as you snowshoe through the countryside. Feel rejuvenated in the remote corners of the Zillertal Alps.
The equipment (snowshoes, gaiters and poles) will be provided by the mountain guide. All you need to bring with you is sturdy footwear and winter clothing. Snowshoe walks are suitable for complete beginners and last for two to three hours depending on the level of snow cover. The tour includes a break at a mountain hut to allow you to refuel. Snowshoeing tours take place daily. To ensure we can provide high-quality tours with a feeling for nature, the walks are limited to a maximum of ten participants. Tours must be booked in advance. You can also book a night-time or full-moon tour. A ramble through the Zillertal Alps under a starry, moonlit sky is a magical experience for all nature lovers
With your dog
Dogs love the snow too! Hochfügen offers numerous dog-friendly activities. From tobogganing and cross-country skiing to winter hiking, you certainly won't run out of things to do. However, if you would like to spend a few hours on Hochfügen's pistes without your beloved four-legged friend, you can use the professional dog sitting service run by tierisch-vital on a farm in Fügenberg. Here, dogs can roam free instead of being confined to a kennel.
Fun, games and laughter are on the menu when taking your dog snowshoeing! Accompanied by a certified mountain and hiking tour guide, you and your treasured pet can enjoy an unforgettable excursion into unspoilt nature in the Zillertal Alps. Dogs may roam freely – provided that they remain obedient and under control – or be kept on a lead. Either way, they must be good natured towards the other members of the group. Dogs must wear a muzzle whilst travelling to the start of the snowshoe tour in the ski bus or taxi. Snowshoeing in Hochfügen is a fantastic experience for dogs and their owners alike
---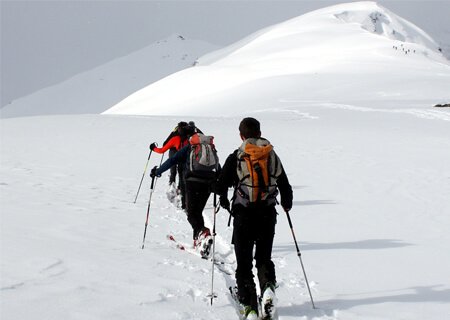 Night-time ski tours every Friday
Ski tourers can ascend and descend pistes 13, 14 and 11 every Friday from the start of December until the end of February. The tour takes you from the 8erJet valley station to 8er Alm via the Hochfügen 2000 valley station. For safety reasons and to enable the pistes to be prepared for the following day, all other pistes are closed and must not be entered or used under any circumstances.
After taking a break in the 8er Alm pizzeria, which remains open until 9.00 pm, nothing stands in your way from enjoying a safe descent down pistes 11, 14 and 13. The difference in altitude during the tour is 653 metres.
Ski tours to the peak
Hochfügen in the Zillertal valley is very popular among ski tourers, especially in late autumn. At this time of year, the resort is already carpeted in snow when many other places are still green. Hochfügen's reliable snow and terrain offer a variety of tours for a range of abilities.